Event details
Wednesday | August 15, 2018
8:00 pm
PSAS - 22 Pakenham St, Fremantle (Bar facilities available)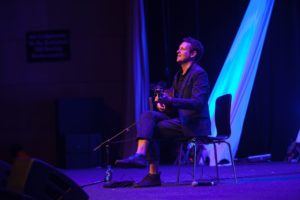 Derek Gripper
Hemispheres, the world music series based at PSAS in Fremantle, is now well into its second year… and it just gets better! With ever increasing international involvement we're delighted to announce our next concert features the truly unique South African guitarist, Derek Gripper. And thanks to a recommendation by former ABC Radio National Planet producer, Doug Spencer, who spotted him on the Adelaide Guitar Festival program, Derek has agreed to perform in Fremantle en route back to Cape Town.
An established classical guitarist Derek has a long-held passion for the West African 21-string kora (harp), a tradition primarily the domain of Manding Jali or Griot musicians who are the anointed storytellers and keepers of the flame. It took Derek Gripper untold hours of painstaking work to transcribe note-for-note the complex compositions of Malian kora master Toumani Diabaté and find a way of playing them on classical six-string guitar. The results appeared on his ninth album, One Night on Earth, marking a meeting point of the written tradition of Western classical music and the oral tradition of the West African griots.
Critical acclaim was quick to follow. Classical guitar legend John Williams said he thought it was "absolutely impossible until I heard Derek Gripper do it". Kora legend, Toumani Diabaté, himself asked for confirmation that it was indeed just one person playing one guitar. Both immediately invited Derek to collaborate with them after hearing his recording One Night on Earth and its follow up Libraries on Fire which won the Songlines Award for "Best Album Africa and Middle East". Derek performed with Williams at London's Shakespeare's Globe and King's Place and with Diabaté and his Symmetric Orchestra at the Acoustik Festival Bamako, Mali.
Our recent Hemispheres concerts with the UK artists, Lost Brothers and Eddy Jay and Will Pound were a great success and we're expecting another generous audience for this remarkable guitarist who's reshaping the boundaries of the classic six-string guitar. Book early.
Tickets: Available from TicketBooth.
More Information: View Facebook Event.