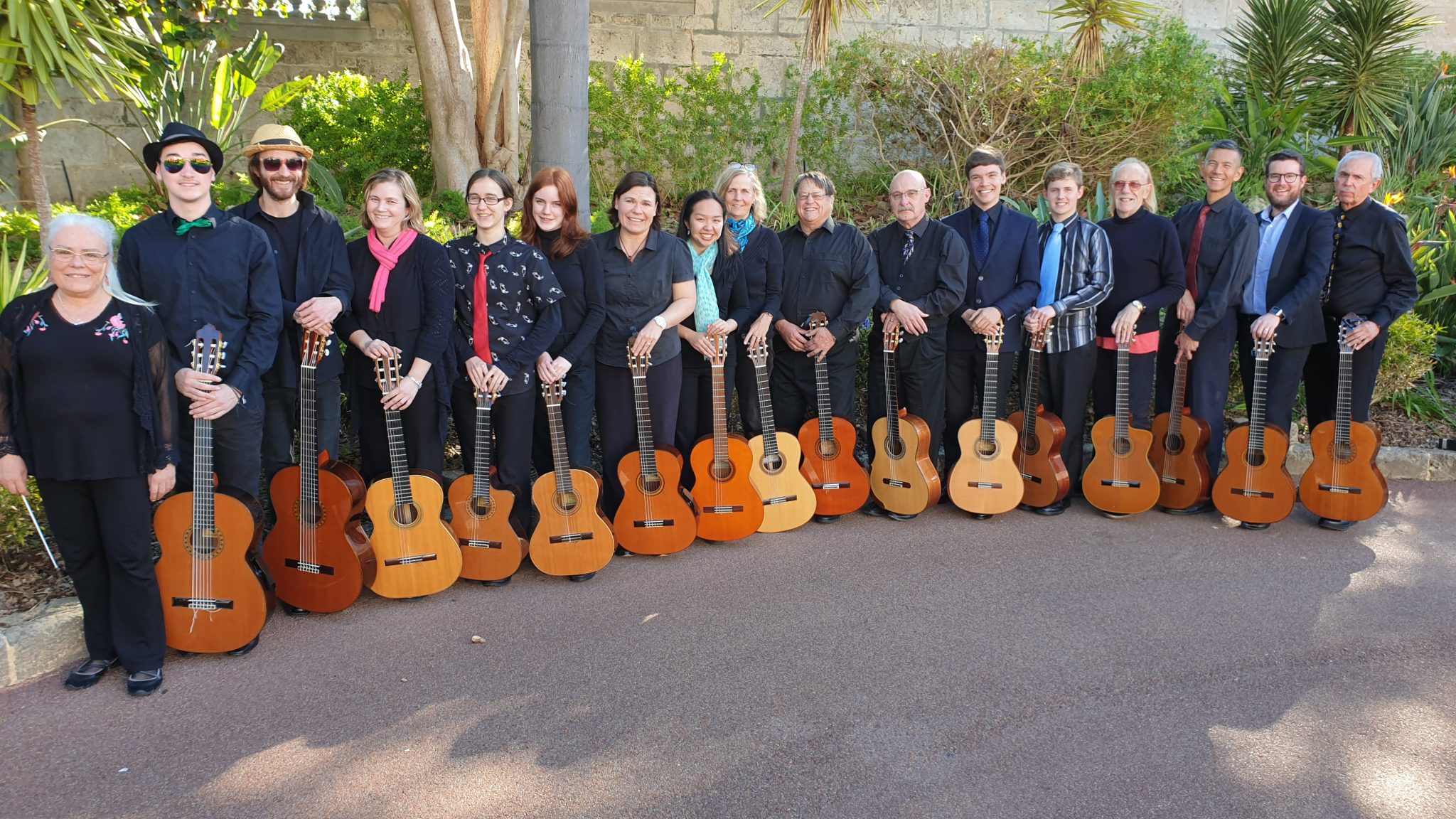 The Guitar Society Orchestra is the heart and soul of the society. It comprises players of all ages, ranging from school age to retirement and provides fun music-making in a relaxed and social environment. The orchestra performs a major set in the society's two major variety concerts, typically held in a major venue such as the Fremantle Town Hall.
The orchestra rehearses most Fridays of the year from 7:00 to 9:00pm at Rehearsals at SIM (School of Instrumental Music), Sixth Street, Maylands; enter Sixth Street from Peninsula Road pff Guildford Road. Any guitarist interested in joining the orchestra should email orchestra@guitarwa.com.au for further details.
BLUE SAPPHIRES AND OTHER AUSTRALIAN GEMS
Recently, the Guitar Society Orchestra produced a CD, conducted by Jane Darcey, featuring original composition and arrangements by Australian composers. The CD can be purchased by emailing sales@guitarwa.com.au.
The CD contains the following pieces; all Australian compositions or arrangements:
| | | |
| --- | --- | --- |
| 1 | Wongalong from Life's a Beach Suite | Paul Svoboda |
| 2 | Raindrops on Bingil from Life's a Beach Suite | Paul Svoboda |
| 3 | CoolBossa | Paul Svoboda |
| 4 | Gypsy Journey | Rory O'Donoghue |
| 5 | Dance Rondo | Jane Darcey |
| 6 | Sapphire Blue | Duncan Gardiner |
| 7 | Festive Fizz | Richard Lenz |
| 8 | Modhina | Traditional, arr. C. Keane |
| 9 | Inspiration | The Gypsy Kings, arr. R. Charlton |
| 10 | Waterfalls | Peter de Monchaux |
| 11 | Meridian | Richard Charlton |
| 12 | Deja Vu | Richard Charlton |