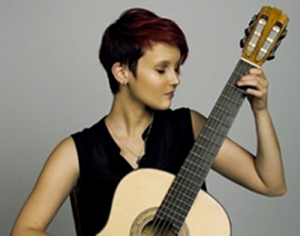 STEPHANIE JONES
This month we feature West Australian classical guitarist, Stephanie Jones. Let's find out a little more about Stephanie.
How long have you been playing the guitar?
I started learning the guitar when I was 11 at Wembley Primary School. In year 6 you could choose from a variety of instruments through the Schools Instrumental Music Program. Now at 21, I have studied the guitar for a decade!
What have been your biggest achievements so far?
There are many achievements that I am proud to have accomplished over that last few years. Recently I completed First Class Honours in Classical Guitar Performance at the Australian National University. Last year I was also awarded the National Virtuoso of the Year Award through Fine Music FM. In 2012, I competed in the Adelaide International Classical Guitar Competition and subsequently won second prize. Also in 2012, I was awarded the "JB Vincent Memorial Award for Best Eligible LMusA Candidate."
What is your favourite piece of music?
It is difficult to choose one piece of music to be my favourite! A wonderful aspect of the guitar is the versatility of music that it encompasses. I am enjoying the range of Spanish guitar music that I am preparing at the moment and am also looking forward to pursuing more Brazilian works in the future. Furthermore, I love J.S Bach, Castelnuovo-Tedesco and Brouwer.
What kind of guitar do you play?
I play a 2012 Paul Sheridan Classical Guitar with Hannabach Goldin Strings. Her name is Rosa!
What do you enjoy doing in your spare time?
Currently due to my busy schedule my free time usually involves sleeping or relaxing with friends and family. I am also trying to frantically learn German for my future study overseas! I also like to play with our ginger cat Marco, my greatest fan and critic.
In the past I enjoyed playing sports that do not involve my hands(!) such as indoor soccer.
What are your plans for the Future?
Currently I am recording a new Album featuring Spanish works and preparing for my series of concerts in April. In May I head off to Germany where I'll be participating in International Festivals and Competitions. I am also auditioning for Postgraduate studies in Cologne and Weimer, Germany.