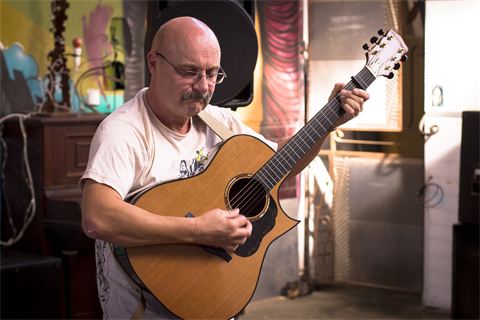 John Ralph
Each month we profile a musician from our Guitar Society Orchestra. This month we feature local guitarist, John Ralph. Let's find out a little more about John.
How long have you been playing the guitar and when did you join the orchestra?
I have been playing for over 30 years. I joined the orchestra in about 2006 (I think!!!!).
What have been your biggest achievements so far?
From the society point of view I really enjoyed Conducting the Orchestra in 2010. As I also play folk music I have taught and appeared at Illawarra folk festival nr Sydney in 2011. Academically I have completed a post grad diploma in Music Practitioner studies at UWA. I Complete my Masters next year.
What is your favourite piece of music?
My favourite Piece changes by the Day. I listen to a broad range of music by which I am always being amazed. Today I have listened to the music of Koehne, Bach, Bensusan, Taverner and Tallis, As well as Traditional Australian Folk Music. Tomorrow may well be Andy McKee, Ed Sheerhan or Chris Wood.
What kind of guitar do you play?
I have a Carrerras Guitar which is beautiful. I also have a David Churchill(A luthier from Ballarat) steel string(Standard tuning) and a wonderful old Lowden(Northern Ireland) which I keep in DADGAD tuning. Also a lovely little Maton 12 string . I try to play them all throughout the week.
What do you do for a living?
I teach the Guitar.
What do you enjoy doing in your spare time?
Playing music, reading about music, talking about music.(So much for a balance!!!!!!).