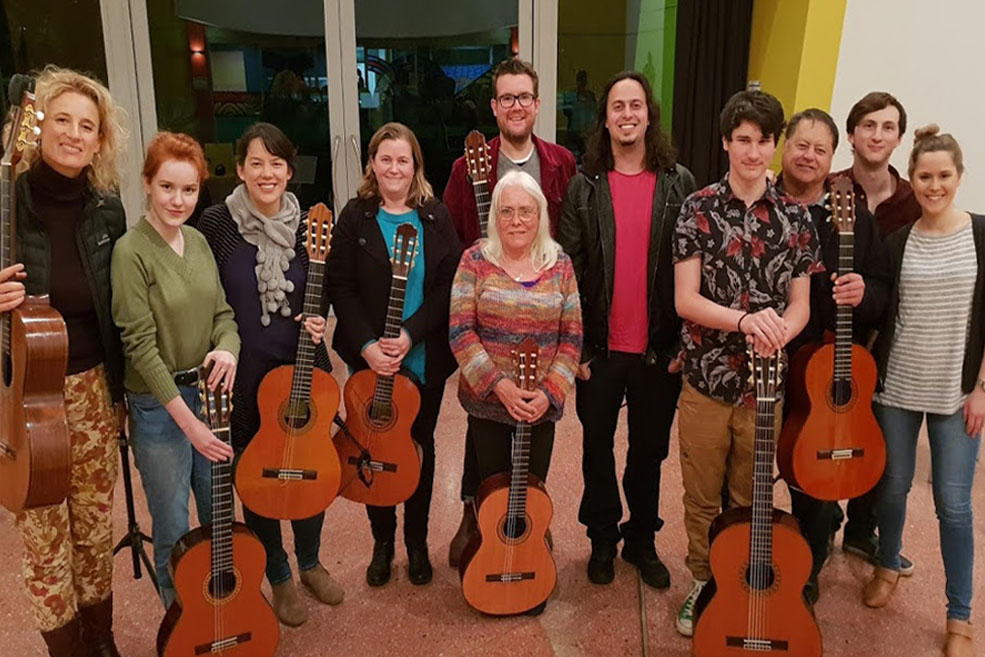 Jane Darcy
Each month we profile a musician from our Guitar Society Orchestra. This month we feature local guitarist, Jane Darcey. Let's find out a little more about Jane.
How long have you been playing the guitar and when did you join the orchestra?
I started playing the guitar in 1969. I joined the Guitar Society when it reformed in - um - 1990 (I think). I was president for one year, then handed it over to Robert Schulz (I don't like being a president).
What have been your biggest achievements so far?
My biggest achievements have been: being the first classical guitarist to complete a Bachelor of Music at UWA (1981) , being the first classical guitarist/Alexander Technique teacher in Perth (1988), being the first Suzuki guitar teacher in WA (finally completed Primary accreditation in 2006); Solo CD recording "Rivers of Light, Rhythms of Fire", conducted Guitar Orchestra Recording "Blue Sapphires"; recording of original music which I wrote "Bluff Knoll and other Australian Soundscapes" - all recordings made and edited by Ward Darcey.
Other achievements I am most proud of are my oldest son who graduated from WAAPA on cello last year, and daughter Fiona who is a passionate environmentalist and humanist.
What is your favourite piece of music?
My favorite piece of music is the slow movement from the double violin concerto in Dm by J. S. Bach or Beethoven's Sixth Symphony. My favorite guitar pieces are the Chaconne by Bach (OK he didn't write it for guitar but you know what I mean), the Fantasia #7 by John Dowland and the Nocturnal by Benjamin Britten.
What kind of guitar do you play?
I play a 1962 spruce top guitar made by Andres de Jager.
What do you enjoy doing in your spare time?
What spare time? - seriously, gardening, bush walking, reading, watching Star Trek, Harry Potter and Babylon 5. (List of favorite authors would take too much time.)
Favourite saying (at the moment) - Who needs a life when you have an obsession?