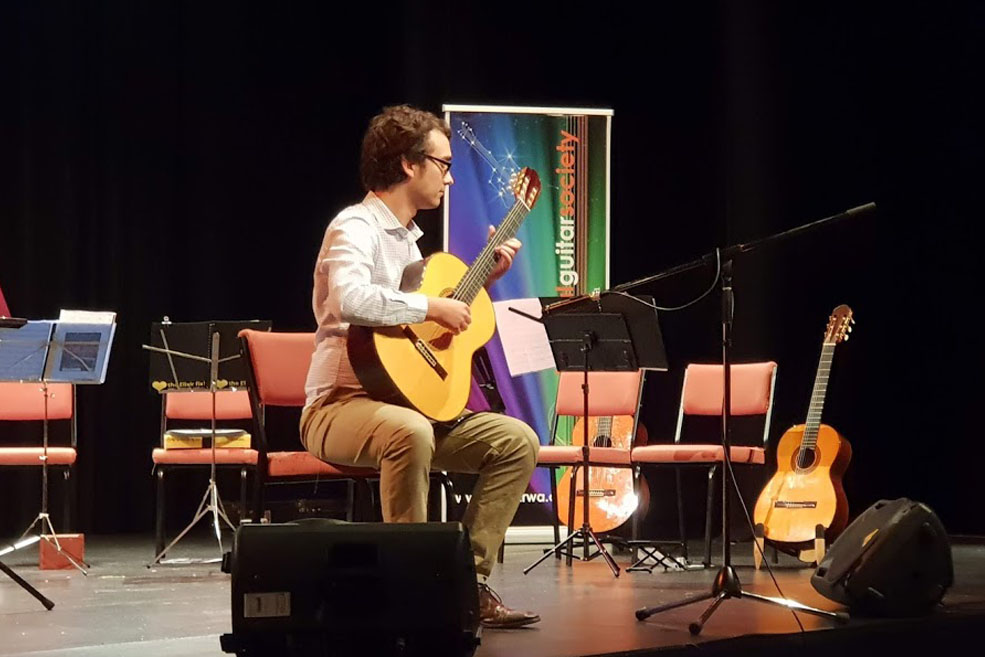 Isaac Mangano
Each month we profile a musician from our Guitar Society Orchestra. This month we feature local guitarist, Isaac Mangano. Let's find out a little more about Isaac.
How long have you been playing the guitar?
I have been playing the classical guitar for just over four years. When I started, I actually wanted to learn to play electric bass, but the sales guy at the guitar shop recommended that I learn classical guitar first. That way I would eventually be able to play any type of guitar. Good advice, I reckon!!
When did you join the orchestra?
I joined the Guitar Society Orchestra in early 2011. I was made to feel welcome straight away, even though it was the first time I'd played in an ensemble and didn't know any of the other guitarists before my first rehearsal.
What have been your biggest achievements so far?
This may sound strange but my biggest achievement so far would have to be growing and maintaining my fingernails. As Segovia said, "If you do not have good nails, then you should abandon the classical guitar for another instrument".
I have won a few music awards through school, AMEB and various local competitions, but my favourite achievements have been the ability to play in front of guitarists such as Antony Field, Rupert Boyd, Jacob Cordoba, Peter Constant, Marion Schaap, Slava Grigoryan, Leonard Grigoryan, Karin Schuapp, Pavel Steidl and Scott Tennant.
What is your favourite piece of music?
Without a doubt, my favourite piece of music is Koyunbaba by Carlo Domeniconi (big thanks to fellow orchestra member, Callum, for introducing me to this piece). There are many different versions of the meaning of Koyunbaba, but the one I like best came from close friend and fishing companion of Domeniconi, Pavel Steidl.
He explains that this piece is about a Turkish father and his sons. One day the Father was asked by a rich businessman if he would like to sell his property for a large sum of money. He refused, but his greedy sons organised the sale behind his back. This made the father so sad that he killed himself. Before hanging himself, the father filled has pockets with the proceeds of the sale and stitched them up. His sons had to tear the clothing from his dead body in order to get the money.
What kind of guitar do you play?
I play a 1981 Richard Howell (#61) guitar. It has a cedar top and Indian rosewood back and sides. Richard Howell has a reputation as one of the finest traditional classical guitar makers in the country. He built my guitar in Adelaide, but now lives in Mornington, Victoria. He builds his guitars one at a time and uses traditional hand tools and finishes.
What do you enjoy doing in your spare time?
I enjoy most sports but recently I have got into tennis and skateboarding. I started playing Pennants for the Melville/Palmyra Tennis Club a couple of months ago - which is a heap of fun. I am also interested in music in general, including pretty much all forms of contemporary music. I sometimes play a little electric guitar, piano and percussion when I find the time.